Mission
ITALY Magazine is produced by an international community of people who love Italy and Italian culture. We are dedicated to delivering content that celebrates beauty and authenticity in Italian travel, lifestyle, language and food to help our readers stay connected to ITALY in a meaningful way.
Company Overview
Since 1999, ITALY Magazine has been the world's most trusted source for everything authentically Italian. Fall in love with ITALY through our feature articles, catch up with the latest news, purchase authentic Italian products, learn the language, find your own Italian property, make your travel bookings, and join our forums to share your passion for ITALY with others.
The Team
Michael Tucker - CEO
Michael Tucker has been a part of the web world in one form or fashion since 1992. Leveraging his deep experience in web services, software development, and web development management, Michael launched Bluespark in 2009 and the company went on to acquire Italy Magazine in 2013. Michael engineered the acquisition of Italy Magazine, oversaw an expansive redesign of the website, and forged multiple, new revenue streams. Now a thriving lifestyle site and media company, Italy Magazine is backed and supported by Bluespark —a thrill for Michael who is an admitted, lifelong Italiophile. Hard pressed to list his favorite thing about Italy, he rambles: "The people, the landscapes, the light, the food, the rolling hills in Umbria, the hilltop villages, the wine, the mens' tailoring, the Autogrills, and—man, oh, man—the cars!"
Georgette Jupe - Editor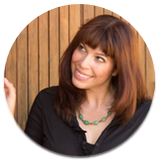 Georgette is an American social media strategist, blogger of 'Girl in Florence', and online copywriter. After studying abroad in Florence for one year in 2005, she found her way back to il bel paese where she has since worked for several online publications, print magazines and an excerpt in the latest edition of Where the Locals Go by the National Geographic. She is a certifiable 'Tuscan Texan' living and breathing all things Italy. Social inside and out, she lives in the moment and eats way too much pasta - she is the new social media & community manager at Italy Magazine. You could say that curiosity is her 'drug' of choice.
Silvia Donati - Contributing Editor
Silvia worked as ITALY Magazine's Assistant Editor before deciding to return to a freelance career; she continues working with ITALY Magazine on a regular basis, contributing ideas and writing news and features. A Bologna native, Silvia graduated from the University of Bologna in Literature and studied Print & Broadcast Journalism at the University of California in Los Angeles, where she has lived, on and off, for several years. She began her career in journalism working for a Southern California news agency before returning to Italy and going freelance. She has written both in English and Italian for a variety of publications, including BBC Travel and Forbes Travel Guide; she has covered the entertainment industry in Los Angeles, where she had the chance to interview Leonardo DiCaprio and Al Pacino among others, and reported live from the Golden Globes for ANSA. She now specializes in everything Italy-related.
Andrea Poidomani - COO
Andrea was born and grew up in Modica, Sicily and holds a Computer Science degree from the University of Torino. Whilst studying for his undergraduate degree he also spend a year at the Politecnico of Madrid. After working for several years for IVECO spa as a technology consultant he has gained considerable experience in web development which he is further refining at ITALY Magazine. Andrea takes care of the relationships with advertisers in Italy and the general running of the ITALY website.
Daniela Frasca - Content Production
With a BA in Physics and Masters in Astrophysics from the University of Catania, a great love of her native country Italy, and a special knack for photography Daniela runs the content production efforts for Italy Magazine. She helps make sure that the over 10 years of content available on the site and the content we produce daily can be found, searched and enjoyed.